Fort Bend Junior Service League Announces 2019 – 2020 Board of Directors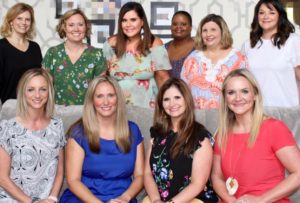 Photo: (Left to Right)
Front Row: Emily Calbert-Past President, Jennifer Looper-Director of Community Service, Colleen Fox-President-Elect, Kristen McQuillen-Director of Membership
Back Row: Kari Opaleski-Director of Publications, Emily Rhodes-President, Nilou Iken-Vice President, Trei Walker-Treasurer, Dana Loper-Director of Technology, Megan Leonhardt-Director of Membership, Not pictured Tanesha Mosley-Secretary
The Fort Bend Junior Service League (FBJSL) is pleased to introduce the 2019-2020 Board of Directors. The incoming Board members, who began their term June 1st, have a combined 34 years of service with FBJSL. "I'm thrilled to have the privilege to lead this amazing group of women," said Emily Rhodes, FBJSL President. "Every year FBJSL does amazing work in Fort Bend County. I know this year's board will support FBJSL and its members to the fullest extent."
FBJSL is an organization of women committed to promoting volunteerism, to developing the potential of women and to improving the Fort Bend County community through the effective action and leadership of trained volunteers. Its purpose is exclusively educational and charitable as well as providing an atmosphere of friendliness, goodwill and camaraderie for all members. During the past year FBJSL members volunteered more than 13,000 hours to the community through fundraising, direct service, and mentoring projects. Since its inception in 2001, FBJSL has donated over $4 million to numerous Fort Bend County charities.
The annual FBJSL membership drive is currently underway. Interested ladies are invited to an informational meeting on, July 25th. The meeting will take place at Ramble Creek Grill in Richmond, TX at 6:30 p.m.
Prospective members may also contact Kristen McQuillin, Director of New Members, at newmembers@fbjsl.com.