Congratulations to the Recipients of Scholarships Awarded by FBJSL
Fort Bend, Texas: 
The Fort Bend Junior Service League (FBJSL) has awarded 6 $1,000 scholarships for the 2022-2023 academic year to the following young ladies for their outstanding volunteer commitment and contributions to our community, Hadley Boudreaux, Katherine Bourgeois, Anvi Garyali, Alifiya Saleem, Ria Tahwar, Emilie Wakeman.  
Hadley Boudreaux is a senior at Saint Agnes Academy. She is the captain of both the basketball and cross-country teams, and a member of the National Charity League where she has volunteered 780 hours. She is passionate about working with teenagers with Autism and has over 100 hours as a counselor for Camp Blessing. Hadley hopes to continue her work with Autistic teens at one of the 7 colleges she has been accepted to attend. 
Katherine (Kate) Bourgeois is a senior at Stephen F Austin High School. She is a member of the National Charity League and has volunteered over 350 hours while staying very active in school. In her spare time, she enjoys knitting, swimming, photography, and any kind of arts and crafts. She plans to pursue a degree in elementary education at Auburn University.  
Anvi Garyali is a senior at Dulles High School. She has volunteered 1,250 hours all while maintaining a 4.26 GPA. She is the founder of Rhythm of Live, a non-profit organization created to advocate and raise awareness surrounding mental health and substance abuse. Anvi will attend the University of Texas at Austin in the Fall, where she will major in Health and Society.  
Alifiya Saleem is a senior at Kempner High School. She is the president of the National Honor Society and has won over a dozen awards. She is a group founder of Hello Talk where she teaches English to Chinese students and has taught over 500 students. Alifiya plans to attend the University of Pennsylvania Wharton School of Business where she plans to pursue a dual degree in International Studies and Business.  
Ria Talwar is a senior at Ridge Point High School. She is the President of the Science Honor Society and is working on turning 200 pounds of plastic caps into a school bench! She is also the co-founder of two organizations at her school, Paying it Forward which provides volunteer opportunities for students, and Purple Hearts, which supports teachers, staff, and administration with a supportive environment by providing free period products to teacher's classrooms with purple hearts. Ria has been accepted to the University of Houston, Texas A&M, UT Austin, and Dallas. She plans to continue her volunteering at the college level.  
Emilie Wakeman is a senior at Cinco Ranch High School. She is the Vice President of Programs for the National Charity League, she is on the National Honors Society as well as the Spanish National Honors Society. She has volunteered over 150 hours, while maintaining a 4.0 GPA. She plans on attending the University of Alabama, pursuing a BS degree in Management Information Systems with a minor in Real Estate Management. 
We would like to honor and congratulate these young ladies for the volunteer work they have given to our community and we wish them well in their future endeavors. 
The Fort Bend Junior Service League (FBJSL) is an organization of women committed to promoting volunteerism, developing the potential of women, and to improving the Fort Bend County community through the effective action and leadership of trained volunteers. Our purpose is exclusively educational and charitable as well as providing an atmosphere of friendliness, goodwill and camaraderie for all members. 
Proceeds from various events and fundraisers have made it possible for FBJSL to donate more than $4.8 million to non-profit agencies in the Fort Bend community since its inception in 2001.  
Contact us at http://www.fbjsl.org or publicrelations@fbjsl.com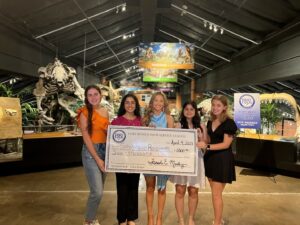 Photo: (Left to Right) 
Hadley Boudreaux, Anvi Garyali, Emilie Wakeman, Ria Tahwar, Katherine Bourgeois, (not pictured Alifiya Saleem). 
-END-