FBJSL established a scholarship program in 2008 for local teens and women who desire to further their education. FBJSL awards up to four Volunteer Scholarships in the amount of $1,000 each to female high school seniors who have demonstrated outstanding achievement in volunteerism and community service. Additionally, the $2,000 New Beginnings Scholarship is an award established to provide assistance to one Fort Bend County woman who wishes to return to school to improve her career opportunities by furthering her education.
Applications and required supporting documents must be sent via email here. Additional details and applications are available below.
2018 Scholarship Recipients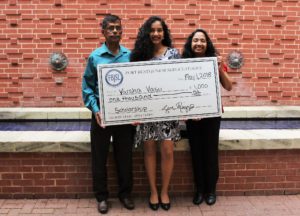 Varsha Vasu
 attends William B. Travis High School and has leadership involvement in numerous endeavors in and out of the school environment including Girl Scouts, the American Red Cross, the National Honor Society, the English Honor Society, the Science National Honor Society, the Spanish National Honor Society and the school's orchestra.
Driven by a purpose beyond her own needs, she plans to attend the University of Texas at Austin to become an orthodontist and continue volunteering in the community.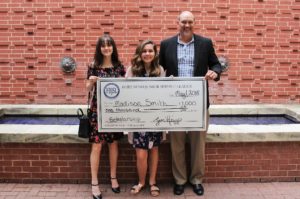 Madison Smith
 is home-schooled and while at the high school level has racked up more than 700 hours volunteering in organizations such as Rose Rich Veterinary Clinic, The Leukemia and Lymphoma Society, 4-H, Hope for Three, Youth in Philanthropy and Camp Blessing – a camp for special needs children.
It is her unyielding desire to improve the lives of others, especially children on the autism spectrum that has led her to pursue a career in Speech and Communication disorders at Sam Houston State University in Huntsville.
VOLUNTEER SCHOLARSHIP
We will begin accepting scholarship applications again on December 1, 2018.  The application deadline will be February 1. 2019.
Eligibility requirements and criteria are as follows:
Applicant must be a female.
Applicant must be a senior graduating from a Fort Bend County public or private high school.
Applicant must submit an essay.
Applicant must have at least a 2.5 grade point average.
Applicant must have completed at least 100 hours of volunteer service during her four (4) years of high school. Volunteer service means service to the community through a non-profit organization benefiting the residents of Fort Bend County or volunteer service performed through school activities, excluding any service performed as a requirement for school or church.
Applicant must submit a Supervisor Recommendation Form.
Applicant must submit a copy of her high school transcript.
Applicant must plan to attend an accredited two or four year college or university.
NEW BEGINNINGS SCHOLARSHIP
Applications will be open December 1, 2018 thru February 1. 2019.
Eligibility requirements and criteria are as follows:
Applicant must be female who has had a break or interruption in her education.
Applicant must be a resident of Fort Bend County.
Applicant must currently be enrolled or accepted into an accredited two or four-year college or university or an accredited vocational school that has been approved and accredited by the State of Texas. A transcript must be submitted with the application. Applicants who have been accepted but have not begun work toward a degree should submit a copy of the letter of acceptance.
Applicant must submit a transcript.
Applicant must submit two (2) letters of recommendation from non-family members.
Applicant must have a financial need, as interpreted by the Beneficiary Review Committee.
Applicant must submit an essay.
In 2016, FBJSL is pleased to present Courtney Kilfoy, Avanthika Mahendrababu, Kalpana Vaidya, and Karen Young, each a Volunteer Scholarship in the amount of $1,000 for their outstanding volunteer efforts in Fort Bend County. The recipients were chosen from a highly qualified pool of applicants from public, private and parochial schools throughout Fort Bend County. The winners stood out among the other candidates as leaders in their schools as well as in their various volunteer efforts.
Courtney is a senior at Ridge Point High School. She is very active in the community with over 500 volunteer hours. Courtney is a founding member of Hope for Three's Teen Huddle. She is a leader at Ridge Point where she has served on the Spanish National Honor Society and as the team captain of the Club Soccer Team. Courtney plans to attend Saint Louis University and pursue a career in Occupational Therapy.
Avanthika is a senior at Clements High School where she has accumulated over 425 volunteer hours serving with many Fort Bend county nonprofits. She serves on the board of the Clements Spanish National Honor Society and DECA. Avanthika is a National AP Scholar and a National Merit Commended Scholar. She plans to attend Rice University and double major in bioengineering and computer science.
Kalpana is a senior at Stephen F. Austin High School. She has been extremely active as a volunteer in our community accumulating over 1150 hours of service. Kalpana is a National Merit Commended Scholar. Most impressively, she founded a program called "World Science Night" at Sartartia Middle School. The program is open to the community and designed to inspire and encourage kids to learn about and enjoy science. She was accepted into the Touring Scholars Program at the University of Texas and plans to major in computer science with hopes to apply virtual reality to education.
Karen is a senior at Dulles High School. She has volunteered over 680 hours in the community. She is the CEO and co-founder of an app called Squad Fitness Goals. She is very active in leadership at Dulles serving on the Math and Art National Honor Societies and co-founding the math and science tutoring program. Karen is currently deciding between Harvard and Stanford and plans to double major in economics and computer science.
2016 Volunteer Scholarship Recipients:
Courtney Kilfoy – Ridge Point High School
Avanthika Mahendrababu – Clements High School
Kalpana Vaidya – Stephen F. Austin High School
Karen Young – Dulles High School
2015 Volunteer Scholarship Recipients:
Alexis Elder – George Ranch High School
Andrea Gonzales – B.F. Terry High School
2014 Volunteer Scholarship Recipients:
Claire Lucas – Dulles High School
Poonam Vaidya – Stephen F. Austin High School
2014 New Beginnings Scholarship Recipients:
Brandi Nicholson – Wharton Community Junior Colllege (WCJC)

2012-2013 Volunteer Scholarship Recipients:
Victoria Rigsby – Fort Bend Christian Academy
Arielle Schochler – Needville High School
2011-2012 Volunteer Scholarship Recipients:
Helen Chuong – Bush High School
Jillian Ross – Clements High School
2010-2011 Volunteer Scholarship Recipients:
Carissa Gilbert – Fort Bend Baptist Academy
Lindsey Witte – Foster High School
2009-2010 Volunteer Scholarship Recipients:
Briana Gifford – Kempner High School
Gabrielle Webster – Foster High School

2008-2009 Volunteer Scholarship Recipients:
Kendrice James – Kempner High School
Roshni Patel – Stephen F. Austin High School