Our Sustaining members are women 50 years of age or older. Our Sustaining group currently welcomes new members twice a year, in August and January. Sustainers are responsible for paying dues and other financial obligations of the League. Sustainers are voting members of the League; however, they are restricted from holding office.
We now accepting new Sustainers! You can join online.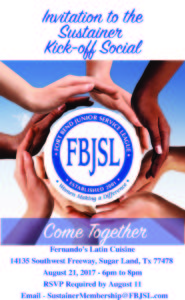 Feast with Friends Schedule 2017 
Check out our Facebook Page for current news.