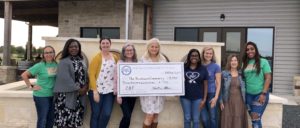 The Fort Bend Junior Service League (FBJSL) supports the community in numerous ways, including donating monies raised from fundraisers to event beneficiaries, providing grants from our Community Assistance Fund, and providing volunteers to agencies selected as core placements.
CORE PLACEMENTS
A core placement is a charitable organization that Fort Bend Junior Service League has chosen to support by providing volunteers (FBJSL members) to serve the agency on a monthly basis.  Members each select a core placement with which they devote many volunteer hours; this gives members the opportunity to provide direct service to one of the five core placement agencies in Fort Bend County who FBJSL serves.
EVENT BENEFICIARIES (GREATER THAN $5,000)
Each League year, the Fort Bend Junior Service League reviews event beneficiary applicants based on the needs of those agencies and the goals of our organization.  FBJSL selects beneficiaries that will thrive due to our support.  In addition, these beneficiaries must align with the League's Position Statements for meeting the needs of the Fort Bend County area.  Please take time to review our Position Statements here or in the Event Beneficiary Instructions outlined below to confirm if your funding request falls within our support.
COMMUNITY ASSISTANCE FUND (UP TO $5,000)
The FBJSL Community Assistance Fund (CAF), allows FBJSL to extend our financial support even further in the community by providing multiple smaller grants to a greater number of charitable causes in Fort Bend County. Community assistance funds allow the League to reach even more children, adults, and families in areas where we are not able to provide service with our volunteers or do not have regularly budgeted monies allocated.
Applications for CAF grants are accepted on an ongoing basis.  If your agency or organization is interested in applying for a CAF grant, please download the below application and details regarding eligibility. CAF applications require a minimum of 6 weeks for review by our Beneficiary Review Committee.
CAF grant requests are accepted throughout the year. Each grant application should be accompanied by the items set forth in the CAF Application and submitted to brccom@fbjsl.com.
RELATED RESOURCES
Event Beneficiary Application currently closed.
Placement Application 2023-25 – Applications are closed
CAF Application and Instructions
CAF Grant FSR
(FSR should be submitted to brccom@fbjsl.com within 90 days of receipt of funds from FBJSL).