FBJSL and MHSL Present 2022 Sugar Plum Market Funds to Local Charities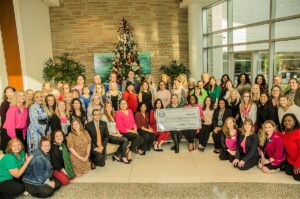 The Fort Bend Junior Service League (FBJSL), together with title sponsor Memorial Hermann Sugar Land (MHSL), are pleased to announce that this year's Sugar Plum Market raised $352,000! Proceeds from this year's Market were presented to 24 local charities serving Fort Bend County on December 13th at a check presentation ceremony hosted by Memorial Hermann Sugar Land hospital. Speakers in attendance included Malisha Patel, CEO and Senior Vice-President of MHSL and Tanesha Mosley, FBJSL President.  The City of Stafford has generously partnered with FBJSL to host the Sugar Plum Market at the Stafford Centre since 2004. 
The following beneficiaries were presented with grants just in time to celebrate the holidays: Access Health, Big Brothers Big Sisters Lone Star, Boys & Girls Club of Greater Houston, Brazos Bend Guardianship, Catholic Charities, Child Advocates of Fort Bend, College Community Career, East Fort Bend Human Needs Ministry, Fort Bend Children's Discovery Center, Fort Bend History Association, Fort Bend Hope, Fort Bend Rainbow Room, Fort Bend Seniors, Gigi's Playhouse, God's Garden, Hope Fort Bend Clubhouse, Hope for Three, Houston Museum of Natural Science at Sugar Land, Literacy Council, Parks Youth Ranch, Reining Strength Therapeutic Horsemanship, Sire, Texana Center, and the FBJSL Community Assistance Fund (CAF).  The CAF will allow Market proceeds to continue helping deserving individuals and worthy agencies through FBJSL's scholarship program and emergency/emerging grant opportunities. 
The 21st Annual Sugar Plum Market was a huge success, with nearly 6,000 shoppers returning to shop from over 105 vendors! "This year's Market was a true testament to the importance of every sponsor, vendor, volunteer, and patron. The proceeds we raise will further allow us to give back to the community we love and serve. We wouldn't be able to do any of this without your support," said Mosley. Since its inception in 2001, the Sugar Plum Market has raised over $4.8 million for this community. 
FBJSL is an organization of women committed to promoting volunteerism, to developing the potential of women and to improving the Fort Bend County community through the effective action and leadership of trained volunteers. Its purpose is exclusively educational and charitable as well as providing an atmosphere of friendliness, goodwill and camaraderie for all members. To date, FBJSL has raised over $5 million dollars in grants and scholarships for charitable 501(c)(3) organizations and individuals in our community. Over the lifetime of the League, our members have worked tirelessly to provide over 400,000 uncompensated volunteer hours to our county. 
Photo: 
Representatives of the organizations receiving proceeds from the 2022 Sugar Plum Market joined members of FBJSL and representatives of Memorial Hermann on December 13th to celebrate the Market's success.