FBJSL Awards Grant to The Brookwood Community
Fort Bend, Texas
FBJSL Awards Grant to The Brookwood Community  
The Fort Bend Junior Service League (FBJSL) is pleased to announce its recent $3,500 Community Assistance Fund (CAF) grant to The Brookwood Community, a non-profit 501(c)(3) residential facility and vocational program for adults with disabilities. The grant award of $3,500 is to purchase and install a heavy-duty washer and dryer for the ceramic's art studio at its Grand Parkway location, in Gallery Furniture. In the studio, adults with special needs produce an estimated 4,200 pieces of ceramics annually, which are then sold in its stores to generate approximately $100,000 per year for the Brookwood Community. This program allows disabled adults to develop tangible skills and a sense of purpose, earn a wage, and contribute to the overall community.   
FBJSL supports the community in numerous ways and through its Community Assistance Fund, the League can provide grants of up to $5,000 per League year, per agency, to local Fort Bend non-profits that need financial support to fund a critical need, pilot a program or expand a significant service to the community. Non-profit agencies interested in applying can visit the Request Support tab of the FBJSL website at www.fbjsl.org. 
###  
The Fort Bend Junior Service League (FBJSL) is an organization of women committed to promoting volunteerism, developing the potential of women, and to improving the Fort Bend County community through the effective action and leadership of trained volunteers. Our purpose is exclusively educational and charitable as well as providing an atmosphere of friendliness, goodwill and camaraderie for all members. 
Proceeds from various events and fundraisers have made it possible for FBJSL to donate more than $4.5 million to non-profit agencies in the Fort Bend community since its inception in 2001.  
Contact at http://www.fbjsl.org or publicrelations@fbjsl.com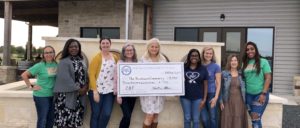 Photo: left to right 
Monique Brown, Jennifer Small, Jennifer Bombach, Alexis Geissler, Jennifer Tiedt, Heather Allen, Misty Gasiorowski, Pam Spencer, Lindsay Bradford