FBJSL is Always Accepting CAF Grant Applications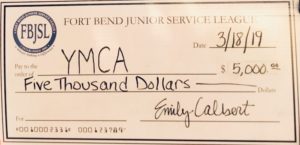 Photo: FBJSL recently awarded $5,000 to the Fort Bend YMCA so that it can provide swim safety education during the Summer of 2019 through to fund its Safety Around Water program. 
The Fort Bend Junior Service League (FBJSL) supports the Fort Bend community in numerous ways, including donating monies raised from fundraisers to event beneficiaries and providing volunteers to agencies selected as core placements. The FBJSL's Community Assistance Fund (CAF) allows FBJSL to extend financial support even further by providing grants of up to $5,000.00 to charitable causes serving Fort Bend County with requests to fund a critical need, pilot a program, or expand a significant service to the community.
Applications for CAF grants are accepted, and CAF grants are awarded, on an ongoing basis throughout the year. If your agency or organization is interested in applying for a CAF grant, please visit the Request Support page of the FBJSL website (www.fbjsl.org/request-support). All applications should be submitted via e-mail to brccom@fbjsl.com.
FBJSL is an organization of women committed to promoting volunteerism, to developing the potential of women and to improving the Fort Bend County community through the effective action and leadership of trained volunteers. Their purpose is exclusively educational and charitable as well as providing an atmosphere of friendliness, goodwill and camaraderie for all members. To learn more about FBJSL, please visit www.fbjsl.org.