FBJSL Names 2017-2018 Volunteers of the Year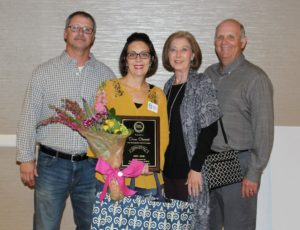 On Tuesday, May 1st, the Fort Bend Junior Service League (FBJSL) and FBJSL Sustainers honored members for outstanding service during the 2017-2018 League year. Dana Clement was named the 2017-2018 Volunteer of the Year. A member of the League since 2011, Dana has been involved with Child Advocates of Fort Bend since she began volunteering with FBJSL. She has served as a dedicated Court Appointed Special Advocate for several years. Dana is also a former member of the FBJSL Board of Directors, having held the positions of Director of Technology, President Elect, President, and Past President. Dana exemplifies what it means to serve the community with a giving heart. Her commitment to Fort Bend County is evident in everything she does, and she is admired and well respected by her fellow League members.
In addition to recognizing the FBJSL Volunteer of the Year, the League would like to acknowledge several other special volunteers. The 2017-2018 Provisional of the Year is Pam Hubenak. Pam has volunteered countless hours and managed to touch and help almost every one of the League's Core Placements this year. She has contributed her time and resources in various ways, and always with a smile on her face.
Pat Somers was awarded Sustainer of the Year for her service to the League and the Fort Bend County community. Pat has been a valuable member of the Sustainers since 2015. She enthusiastically volunteers monthly for Child Advocates of Fort Bend, and is also on the Host Committee for the Houston Museum of Natural Science in Sugar Land. Additionally, Pat gives of her time by serving with Parks Youth Ranch and her church.
FBJSL and FBJSL Sustainers are honored to work with such great women who embody the highest level of volunteerism and further the mission of the League. FBJSL is an organization of women committed to promoting volunteerism, to
developing the potential of women and to improving the Fort Bend County community through the effective action and leadership of trained volunteers. Its purpose is exclusively educational and charitable as well as providing an atmosphere of friendliness, goodwill and camaraderie for all members. For additional information about FBJSL, please visit www.fbjsl.org.
Photo: (Left to Right)
2017-2018 FBJSL Volunteer of the Year, Dana Clement, with her husband Jason Clement, and her parents, Catherine Roques and Lynn Roques.