FBJSL Supports Local Non-Profit Agencies God's Garden and Attack Poverty
Fort Bend, Texas:
The Fort Bend Junior League (FBJSL) continues to make a difference within the Fort Bend community through its Community Assistance Fund.   The Fund can provide grants of up to $5,000 per League year, per agency, to local Fort Bend non-profits that need financial support to fund a critical need, pilot a program or expand a significant service to the community.
FBJSL is pleased to have recently helped through the Community Assistance Fund two worthy Fort Bend non-profit agencies.  The first award was to God's Garden in the amount of $5,000 for gypsum to prep a new garden section for the planting of vegetables.  God's Garden produces organic vegetables that are offered free of charge to local food pantries in the Fort Bend community. To learn more about God's Garden, please visit their website at http://godsgarden.us/.   The second award was to Attack Poverty for $3,000 to fund the NEW North Rosenberg Neighborhood Resource Center with new books and supplies for the Children's Room and new supplies for the commercial kitchen.  Attack Poverty offers food distribution, home repair, after-school program, ESL, GED prep, job readiness, finance and technology workshops and other community-based programs. To learn more about Attack Poverty, please visit their website at www.attackpoverty.org.
Fort Bend non-profit agencies interested in applying for a grant from the Community Assistance Fund can visit the request support page of FBJSL's website at www.fbjsl.org.
###
The Fort Bend Junior Service League (FBJSL) is an organization of women committed to promoting volunteerism, developing the potential of women, and to improving the Fort Bend County community through the effective action and leadership of trained volunteers. Our purpose is exclusively educational and charitable as well as providing an atmosphere of friendliness, goodwill and camaraderie for all members.
Proceeds from various events and fundraisers have made it possible for FBJSL to donate more than $4.8 million to non-profit agencies in the Fort Bend community since its inception in 2001.  
Contact at http://www.fbjsl.org or publicrelations@fbjsl.com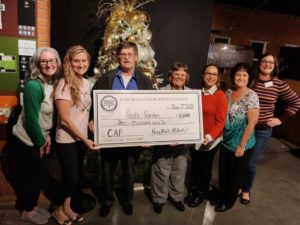 Photo (left to right): Alexis Geissler, Co-Chair Misty Gasiorowski, Michael and Lorraine Streeb of God's Garden, Monique Brown, Lori Gorewitz, and Co-Chair Jennifer Bombach