FBJSL's New Beneficiary Review Committee is Accepting Community Assistance Fund Applications
Fort Bend, Texas:   
The Fort Bend Junior Service League's (FBJSL) Beneficiary Review Committee is in full swing preparing the 2021-2022 League year.  We are proud to announce this year's committee members as follows:  Jennifer Bombach and Misty Gasiorowski as Co-Chairs, Tanesha Mosley as Board Liaison, along with Lindsey Bradford, Monique Brown, Alexis Geissler, Lori Gier, Lori Gorewitz, Jennifer Small and Pam Spencer. 
FBJSL is accepting Community Assistance Fund (CAF) applications for $5,000.00 or less.  This fund allows the League to make multiple small grants throughout the year to local Fort Bend County non-profit organizations.  The CAF is funded through FBJSL's annual Sugar Plum Market that will take place Thursday, November 4th through Saturday, November 6th with a special Preview Night Celebration on Wednesday, November 3rd at the Stafford Centre Performing Arts Theatre and Convention Center. For more information on applying for a Community Assistance Fund grant, please visit https://www.fbjsl.org/request-support/.  For more information about the Sugar Plum Market, please visit https://www.sugarplummarket.com/.   
### 
The Fort Bend Junior Service League (FBJSL) is an organization of women committed to promoting volunteerism, developing the potential of women, and to improving the Fort Bend County community through the effective action and leadership of trained volunteers. Our purpose is exclusively educational and charitable as well as providing an atmosphere of friendliness, goodwill and camaraderie for all members. 
Proceeds from various events and fundraisers have made it possible for FBJSL to donate more than $4.5 million to non-profit agencies in the Fort Bend community since its inception in 2001.  
Contact at http://www.fbjsl.org or publicrelations@fbjsl.com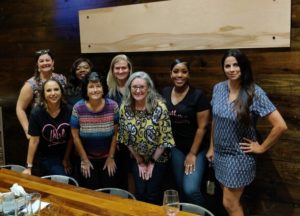 Photo: (Left to Right)  
Front Row: Monique Brown, Lori Gorewitz, and Alexis Geissler 
Back Row: Jennifer Bombach, Jennifer Small, Misty Gasiorowski, Lindsey Bradford, and Lori Gier 
Not Pictured: Tanesha Mosley and Pam Spencer