Fort Bend Junior Service League and Memorial Hermann Sugar Land Hospital Partner Again for 2018 Sugar Plum Market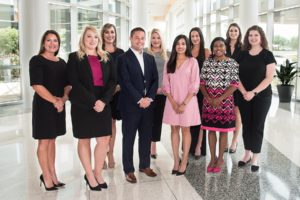 The Fort Bend Junior Service League (FBJSL) is pleased to announce the return of Memorial Hermann as Title Sponsor of the Sugar Plum Market. The 18th Annual Market will feature the theme "Oh, What Fun!" and will focus on the fun of giving to the many charitable organizations that have benefited from Market proceeds through the years.
"We are thrilled once again to be the Title Underwriter for FBJSL's 2018 Sugar Plum Market. We have enjoyed a fantastic relationship with FBJSL over the years and celebrate this signature event that brings so much to so many in need. We share a responsibility to serve this community, and we look forward to the synergies that we will create together as we align our efforts," commented Malisha Patel, CEO of Memorial Hermann Sugar Land Hospital and Memorial Hermann Southwest Hospital.
Memorial Hermann Sugar Land offers comprehensive women's services from labor and delivery to pelvic floor health. Located on the campus of Memorial Hermann Sugar Land, Children's Memorial Hermann Sugar Land is the only dedicated pediatric Emergency Center in Fort Bend County and focuses on the unique needs of children.
The 2018 Sugar Plum Market will be held Friday, November 2nd and Saturday, November 3rd at the Stafford Centre Performing Arts Theatre and Convention Center. Market hours will be from 9 a.m. to 8 p.m. on Friday and from 9 a.m. to 5 p.m. on Saturday. The always popular Preview Night shopping event will be on Thursday, November 1st from 6 to 10 p.m. Shoppers will be delighted to find more than 100 vendors from various merchandise categories including holiday gifts and décor, apparel and accessories, food, home interiors, and children's items.
Proceeds from the Market will continue to benefit charitable organizations in Fort Bend County.
For more information, including sponsor and underwriting opportunities, please visit www.sugarplummarket.com or email information@sugarplummarket.com. Also, please view the Sugar Plum Market's Facebook page featuring Market highlights.
Photo: Sugar Plum Market Co-Chairs and Title Sponsor Memorial Hermann Sugar Land representatives.
From left to right:
Heather Brown, Kate Willis, Kathryn Johnson, Jason Glover, Kimberly Camp, Malisha Patel, Jaime Harris, Heather Allen, Rachel Kelm, Brittany Cope