Fort Bend Junior Service League and Memorial Hermann Sugar Land partner for the 2023 Sugar Plum Market
Fort Bend County, Texas:
The Fort Bend Junior Service League (FBJSL) is delighted to announce Memorial Hermann Sugar Land Hospital as the Title Sponsor for the 2023 Sugar Plum Market. Since it began in 2001, the Sugar Plum Market has raised over $4 million dollars to benefit many wonderful nonprofit organizations in Fort Bend County.
"This beloved Fort Bend County tradition is the kickoff to the holiday season for many in our community", said Jessica Gregory, FBJSL President. "We are so thankful for Memorial Hermann Sugar Land and their continued support for the past nine years."
"We are honored to continue our partnership with the Fort Bend Junior Service League by being the Title Sponsor of this year's Sugar Plum Market." said Malisha Patel, Senior Vice President and CEO for Memorial Hermann Sugar Land. "As a leader in our community, we share the commitment of giving back and making an impact."
The 2023 Sugar Plum Market will kick off with Preview Night on Wednesday, November 1, 2023. Then, enjoy three days of shopping with over 100 vendors starting Thursday, November 2, 2023, thru Saturday, November 4, 2023, at the Stafford Centre Performing Arts Theatre and Convention Center.
Sponsorship and underwriting opportunities are available to both businesses and individuals. The Sugar Plum Market is also seeking donations for their Premium Raffle. Please contact sponsors@fbjsl.com and/or raffle@fbjsl.com to find out more information.
The Fort Bend Junior Service League (FBJSL) is an organization of women committed to promoting volunteerism, developing the potential of women, and to improving the Fort Bend County community through the effective action and leadership of trained volunteers. Our purpose is exclusively educational and charitable as well as providing an atmosphere of friendliness, goodwill and camaraderie for all members. Proceeds from various events and fundraisers have made it possible for FBJSL to donate more than $5.2 million to non-profit agencies in the Fort Bend community since its inception in 2001.
Contact us at www.fbjsl.org, www.sugarplummarket.com or publicrelations@fbjsl.com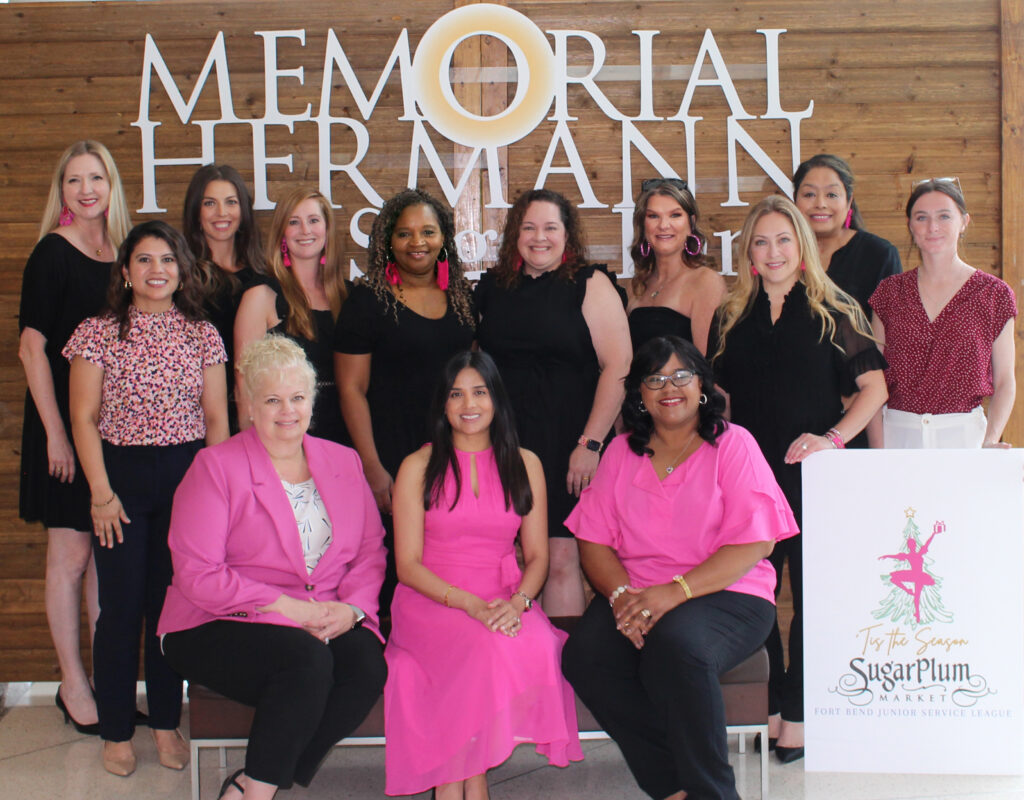 Photo: (Left to Right)
Front Row: Kristel Poffinbarger, Vice President, Chief Medical Officer; Malisha Patel, Senior Vice President, Chief Executive Officer; and Seleria Fletcher, Vice President, Chief Nursing Officer
Back Row: Chelsi Oestreich, FBJSL SPM Liaison; Karina Martinez, Senior Marketing Specialist; Candace Amini, Co-Chair; Cherie Lyne Bouterie, Co-Chair; Monica Hasty, Co-Chair; Andi Wallis, Co-Chair; Holly Barker, Co-Chair; Jessica Gregory, FBJSL President; Michelle Monterroso, Co-Chair; and Catherine Sims, Marketing Intern
-END-