Fort Bend Junior Service League Announces 2017 – 2018 Board of Directors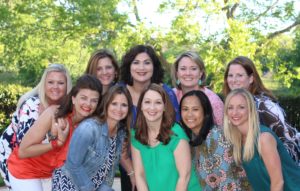 The Fort Bend Junior Service League (FBJSL) is pleased to introduce the 2017-2018 Board of Directors. The incoming Board members, who began their term June 1st, have a combined 43 years of service with FBJSL. "I'm so humbled to have the privilege to lead this amazing group of women," said Jen Rizzo, FBJSL President. "Fort Bend County is better for their efforts and it is wonderful to work with such an amazing group. Each year we pick a theme for the year and for the 2017-2018 year we have selected 'All you need is love'. We recognize that in a world with more bad news than good, we could all do well to love each other a little more."
FBJSL is an organization of women committed to promoting volunteerism, to developing the potential of women and to improving the Fort Bend County community through the effective action and leadership of trained volunteers. Its purpose is exclusively educational and charitable as well as providing an atmosphere of friendliness, goodwill and camaraderie for all members. During the past year FBJSL members volunteered more than 11,000 hours to the community through fundraising, direct service, and mentoring projects. Since its inception in 2001, FBJSL has donated $3.7 million to numerous Fort Bend County charities.
The annual FBJSL membership drive is currently underway. Interested ladies are invited to an informational meeting on Thursday, July 13th. The meeting will take place at Lupe Tortilla in Sugar Land at 6:30 p.m. Prospective members may also contact Kelsea Lake, Director of New Members, at newmembers@fbjsl.com. For more information about FBJSL, please visit www.fbjsl.org.
Photo: (Left to Right)
Front Row: Laura Taylor, Past President; Colleen Fox, Director of Community Service; Sherri Ebarb, Director of Public Relations; Susan Correa, Treasurer; and Emily Calbert, President-Elect.
Back Row: Kelsea Lake, Director of New Members; Katie Parsons, Secretary; Jen Rizzo, President; Emily Rhodes, Director of Technology; and Gillian Parker, Director of Membership. Not pictured: Jennifer Gottlieb, Vice President.