Fort Bend Junior Service League Announces 2021-2022 Board of Directors
Fort Bend, Texas:   
 The Fort Bend Junior Service League (FBJSL) is pleased to introduce the 2021-2022 Board of Directors. The incoming Board members, who began their term June 1st, have a combined 72 years of service with FBJSL. "I'm excited and honored to lead an organization of wonderful women dedicated to service," said Heather Allen, FBJSL President. "This year's Board is committed to supporting FBJSL's mission while promoting leadership and philanthropy through its members. FBJSL looks forward to continuing our volunteer efforts with our community partners." 
The annual FBJSL membership drive is currently underway. Please visit the FBJSL Facebook page at www.facebook.com/FortBendJuniorServiceLeague/ 
for the Informational Meeting dates and times. Prospective members may also contact Jessica Gregory, Director of New Members, at newmembers@fbjsl.com. For more information about FBJSL, please visit www.fbjsl.org. 
### 
The Fort Bend Junior Service League (FBJSL) is an organization of women committed to promoting volunteerism, developing the potential of women, and to improving the Fort Bend County community through the effective action and leadership of trained volunteers. Our purpose is exclusively educational and charitable as well as providing an atmosphere of friendliness, goodwill and camaraderie for all members. 
Proceeds from various events and fundraisers have made it possible for FBJSL to donate more than $4.5 million to non-profit agencies in the Fort Bend community since its inception in 2001.  
Contact us at http://www.fbjsl.org or publicrelations@fbjsl.com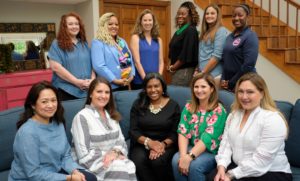 Photo: (Left to Right)  
Front Row: Karen Dulyunan-Director of Technology, Heather Brown-Sugar Plum Market Liaison, Heather Allen-President, Colleen Fox-Past President, Jessica Gregory-Director of New Members 
Back Row: Kelly Evans-Treasurer, Brandy Edwards-Secretary, Sarah Kuehl-Director of Public Relations, Katara Goings-Vice President, Stacy Roncal-Director of Community Service, Tanesha Mosley-President Elect 
(Not pictured: Kimberly Camp-Director of Membership)