Sugar Land Middle School Girls' Volleyball Teams Raise Money for FBJSL's Breast Cancer Fund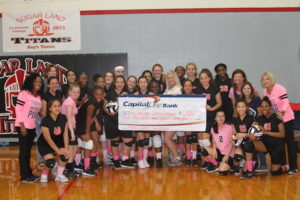 The 7th and 8th Grade Girls' Volleyball Teams at Sugar Land Middle School are excited about beating their opponents, but also excited about helping to beat cancer! The teams recently collected donations from their friends, families, and teachers in recognition of Breast Cancer Awareness Month. The funds were pooled to make an amazing donation to the Fort Bend Junior Service League's (FBJSL) Breast Cancer Fund.
Two years ago the girls' donation to FBJSL's Breast Cancer Fund was around $700. In spite of everything the local community has experienced with the recent destruction of Hurricane Harvey, the young ladies were able to raise an astounding $1,375 this year! The teams and their Coaches presented the check to members of the FBJSL Board of Directors on Thursday, October 5, 2017. FBJSL President Jen Rizzo stated, "No matter which team ends up winning on the court, these girls are already winners! They are learning at a young age how important it is to work together as a team and to give back to their community. We wish the best of luck to the Sugar Land Middle School Volleyball Teams this season. And a huge 'Thank you' for helping beat cancer!"
FBJSL's Breast Cancer Fund was established in 2009 as a means to provide financial support for programs and services designed to improve quality of life, provide access to early detection and treatment, and diminish suffering for Fort Bend County breast cancer patients. Funds are raised in conjunction with partnering organizations as part of an ongoing, collaborative effort to further the community's fight against breast cancer. To date, Eclipse Soccer Club, Travis High School, Crockett Middle School, Kempner High School, Sugar Land Middle School, Nolan's Sweet Heat, and Methodist Sugar Land Hospital have partnered with FBJSL in contributing to the Breast Cancer Fund. Together with Methodist Sugar Land Hospital, FBJSL has presented $19,789 in proceeds to the American Cancer Society as a result of these partnerships.
For more information about FBJSL, please visit the website www.fbjsl.org.
Photo: (Left to Right)
Front Row: April Valdez, Hailey Ansley, Zyah Evans, Aracely Reyes, Elena Jarnot, Jalena Nguyen, Emiah Rice, Kelsea Lake (FBJSL), Deon Brown, and Haley Knobler.
Kneeling: Annie Dang, Madison Le, and Amenah Savage.
Back Row: Coach Toni Woods, Genesis Munoz, Gillian Parker (FBJSL), Iyana Mahan, Madison Alexander, Lola Miertchin, Breana Shed, Jennifer Mendez, Samantha Shelander, Ameera Adams, Skylar Bergen, Kemi Ikemefuna, Laura Taylor (FBJSL), Colleen Fox (FBJSL), and Coach Karen Efron.