Sugar Plum Market Helps Reining Strength Change Lives Across Fort Bend County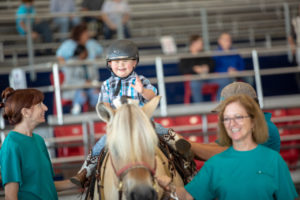 Left to right: Barbara Katsenes, Conner Cacino, Fran Zwick
The Sugar Plum Market is racing ahead to another incredible event! Since 2001, the holiday shopping extravaganza has raised over $2.5 million for numerous Fort Bend County non-profit organizations. Previous grants have contributed to educational programs, food pantries, assistance for women and children, literacy programs, and many other charitable needs. The 19th Annual Market, presented by the Fort Bend Junior Service League (FBJSL) and Memorial Hermann Sugar Land, will focus this year's "Joy to the World" theme on the amazing organizations that have benefited from these grants through the years.
One of those non-profits is Reining Strength. This organization is a therapeutic horsemanship group servicing clients through group and individual riding lessons. Each lesson is tailored to the need of the individual and is taught by a Certified PATH Intl. Instructor (Professional Association of Therapeutic Horsemanship International).
Clients include people of all ages with a wide variety of diagnoses such as; Anxiety, Autism, Cerebral Palsy, CVA or Stroke, Down Syndrome, Learning Disabilities, PTSD, and many more. Through the detailed lessons put together by Reining Strength's team, both human and equine, clients have overcome both physical and mental challenges.
"Fort Bend Junior Service League has been a vital part of the continued growth of our organization! Our Sugar Plum grant enabled us to purchase two additional horse stalls for our center, allowing us to add two more horses to our equine staff and increase the number of individuals we serve. The impact for our families is life changing, from children improving mobility, core strength, and communication to survivors of abuse and trauma being able to learn to trust through a relationship with the horse. If you have not been to Sugar Plum, it is an extremely well-run event you won't want to miss, and it impacts so many individuals in our community. We are so grateful for FBJSL and all they do not only for us, but for
all our non-profit peers in Fort Bend County." Explained Heather Hernandez-Sedillo, Executive Director, Reining Strength Therapeutic Horsemanship.
The 2019 Sugar Plum Market will once again benefit several Fort Bend County charities. Doors will open at the Stafford Centre Performing Arts Theatre and Convention Center for a special Preview Night shopping event on Thursday, November 7th from 6 p.m. to 10 p.m. General Market hours will be on Friday, November 8th from 9 a.m. to 8 p.m. and Saturday, November 9th from 9 a.m. to 5 p.m. If you want to help organizations like Reining Strength, please consider becoming a sponsor or underwriter. For more information, including sponsorship and underwriting opportunities, please visit www.sugarplummarket.com or contact the Sugar Plum Market Co-Chairs by email at information@sugarplummarket.com. For more information about Reining Strength, please visit www.reiningstrength.org