The Fort Bend Junior Service League Awards Scholarships for the 2020-2021 School Year
The Fort Bend Junior Service League (FBJSL) has awarded scholarships for the 2020-2021 academic year to the following young ladies for their outstanding contributions to our community: Sydney Bynes, Cheryl Zeng, Kyla Wieghart, and Jenna Evans for their outstanding volunteer efforts, and Zaina Khan for her dedication and desire to return to college.
Sydney Bynes attends Clements High School and has held numerous leadership positions in her volunteer work. Over the course of her high school education she has logged more than 500 volunteer hours. When not volunteering you can see Sydney on the sidelines cheering on many of the schools sports organization as Vato, the Clements High School mascot. In the fall Sydney plans to attend Texas State University to study Public Relations and Corporate communications. She would like to continue to help others and hopefully build a future doing just that.
Cheryl Zeng attends Seven Lakes High School. Her volunteer work with the Houston Food Bank and other community involvement has helped give way for her passion for helping others. She plans to attend Cornell in the fall and will study in the College of Engineering. Her plan is to join the Engineers in Actions, who help design footbridges in underserved communities.
Kyla Wieghat attends Needville High School and has received numerous awards and recognition during her school years, such as: Class Champion for Goat, Award of Excellence in Principals Health Science, Class President, Mascot All-American, and Needville Harvest Festival Queen. Kyla has plans to attend Wharton County Junior College in the summer.
Jenna Evans attends Cinco Ranch High School. With a passion for helping others Jenna has volunteered numerous hours at South Texas Animal Adoption Rescue and Special Rodeo during her school years. It's impact on her has influenced what she would like to do as a career. Jenna plans to attend Tarleton University in the fall and hopes to become a Veterinarian. Her goal is to volunteer her time and knowledge to shelters and youth livestock projects.
Zaina Khan has been awarded the New Beginnings Scholarship and will be attending Prairie View A&M as a Nursing Major.
Congratulations to these admirable young women, who were selected from a highly qualified pool of applicants. FBJSL is proud to support you and wishes all applicants the best in your pursuit of higher education!
The FBJSL is a non-profit organization of women committed to promoting volunteerism and developing the potential of women in the Fort Bend community. Additional information about the FBJSL scholarship program is available at https://www.fbjsl.org/scholarship-programs/.
Scholarship Programs. FBJSL established a scholarship program in 2008 for local teens and women who desire to further their education. FBJSL awards up to four Volunteer Scholarships in the amount of $1,000 each to female high school seniors who have demonstrated outstanding achievement in volunteerism and community service.
Fort Bend residents looking to enter or return to college in the Summer or Fall 2021 can apply for scholarships starting in or around January 2021.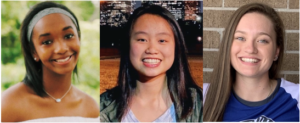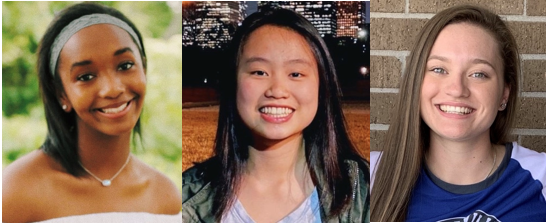 Above (Left to Right): Sydney Bynes, Cheryl Zeng and Kyla Wieghat
Jenna Evans and Zaina Khan (not pictured)