2019 Sugar Plum Market to Spread Record Breaking JOY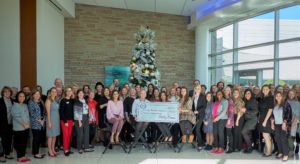 Beneficiary check presentation hosted by Fort Bend Junior Service League and Title Sponsor Memorial Hermann Sugar Land
The 2019 Sugar Plum Market presented by the Fort Bend Junior Service League (FBJSL) and Title Sponsor, Memorial Hermann Sugar Land, certainly lived up to the chosen theme, "Joy to the World". The 19th Annual Market took place at the Stafford Centre Performing Arts Theatre and Convention Center in November and quickly became the most successful Market to date.
Through the collaboration of so many including; FBJSL volunteers, Memorial Hermann Sugar Land, the City of Stafford, the Stafford Centre team, countless sponsors, vendors, and of course the Market patrons, the 2019 Sugar Plum Market raised a whopping $345,000 for non-profit organizations serving the Fort Bend Community.
The organizations who benefit from the money raised are not only grateful, but some even depend on the funds distributed to keep the organizations in a position to best serve our community. For a complete list of all the beneficiaries please head to www.sugarplummarket.com.
Planning for the 2020 Market is well underway as this year will mark the 20th Anniversary of the Sugar Plum Market and FBJSL! Stay tuned for very exciting news regarding this year's event.
Thank you for helping the Sugar Plum Market spread so much JOY in 2019! We hope that you plan to CELEBRATE 20 years with us this November! For more information on Sugar Plum Market, including your opportunity to get involved through sponsorships and underwriting, please visit our website, www.sugarplummarket.com or contact the Sugar Plum Market Co-Chairs by email at information@sugarplummarket.com, and follow us on Instagram and Facebook to see all the exciting announcements first!