FBJSL is Accepting Scholarship Applications NOW!
Fort Bend, Texas:
Are you a female high school senior or adult resident of Fort Bend County who is
planning to pursue higher education? If so, you may qualify for assistance
through the Fort Bend Junior Service League (FBJSL) scholarship program.
Each year, the FBJSL awards up to four $1,000 Volunteer Scholarships and one
$2,000 New Beginnings Scholarship.
The Volunteer Scholarships are awarded to female high school seniors in Fort
Bend County who have demonstrated outstanding achievement in volunteerism
and community service. Recipients must have completed at least 100 hours of
high school community service, have a minimum GPA of 2.5, and plan to attend
an accredited two- or four-year college or university.
The New Beginnings Scholarship is offered to help Fort Bend County women
improve their career opportunities by furthering their education. Recipients must
have been accepted into an accredited college, university, or vocational school
after having taken a break in their education and establish financial need.
Interested? Learn more and obtain a copy of the applications by visiting the
FBJSL's website at www.fbjsl.org. Applications will be accepted until March 1, 2021.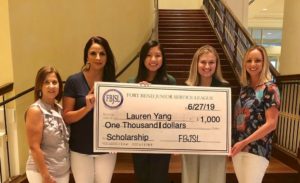 Photo: Pam Spencer, Lori Gier, Lauren Yang, Misty Gasiorowski, Emily Calbert
The Fort Bend Junior Service League (FBJSL) is an organization of women committed to promoting volunteerism, developing the potential of women, and to improving the Fort Bend County community through the effective action and leadership of trained volunteers. Our purpose is exclusively educational and charitable as well as providing an atmosphere of friendliness, goodwill and camaraderie for all members.
Proceeds from various events and fundraisers have made it possible for FBJSL to donate more than $4.5 million to non-profit agencies in the Fort Bend community since its inception in 2001.
Contact at http://www.fbjsl.org or publicrelations@fbjsl.com