FBJSL Welcoming New Members for 2018-2019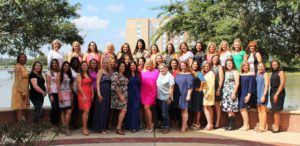 The Fort Bend Junior Service League (FBJSL) has begun its membership drive for the 2018 – 2019 League year. Provisional membership is available to women ages 21 to 50 years. Recruitment efforts are in full force and there is still time to join! FBJSL is hosting multiple events throughout the summer to learn more about the organization and becoming a member. Informational Meetings will be held on the following dates:
* June 14th at 9:30 am at The Perfect Latte in Richmond
* June 21st at 6:30 pm at Pablo's Mexican Kitchen in Richmond
* July 19th at 6:30 pm at Lupe Tortilla in Sugar Land
* July 26th at 9:30 am at Bean Here Coffee in Missouri City
* August 9th at 9:30 am at Bean Here Coffee in Missouri City Please visit www.fbjsl.org for additional information.
FBJSL members will have the opportunity to provide direct service to the following agencies: Child Advocates of Fort Bend, Lunches of Love, Houston Museum of Natural Science – Sugar Land, GiGi's Playhouse, Reining Strength, and Fort Bend Children's Discovery Center. Members also may choose to serve on the Sugar Plum Market committee or as an advisor for the Fort Bend Teen Service League (FBTSL), a mentoring project of FBJSL.
FBJSL is an organization of women committed to promoting volunteerism, to developing the potential of women and to improving the Fort Bend County community through the effective action and leadership of trained volunteers. Its purpose is exclusively educational and charitable as well as providing an
atmosphere of friendliness, goodwill and camaraderie for all members. For additional information about joining FBJSL, please email newmembers@fbjsl.com.
Photo:
The 2017-2018 Fort Bend Junior Service League Provisional class.
First Row: KaToya Carter, Heather Scantlin, Cathy Holland, Seema Sanghi, Holli Walker, Kristin Janossy, Shanna Pierson, Kristin Meijer, Jennifer Looper, Angela Thomson, Valerie Treece, Nilou Iken, Tamara Jobe, Kelsea Lake, Chelsi Oestreich, Lauren Gifford, Megan Leonhardt, Kelly Evans, Elizabeth Edwards, Alexis Geissler, Julie Monkhouse, Pam Hubenak, Kari Opaleski, Andrea Parvis, and Aja Smith.
Second Row: Sheryl Slot, Misty Gasiorowski, Kelly Langston, Mandy Pike, Jessica Gregory, Christy Gaia, Dana Loper, Samantha Plomer, Diane Molina, Avni Shah, Jamie Pilloff, Cherie Lyne Bouterie, Kristen McQuillin, and Judy Sparks.