Sugar Plum Market Recognizes Top Sponsors to Date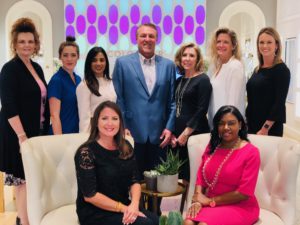 The Sugar Plum Market is a great way to kick-off the holiday season in Fort Bend County, but more importantly, it's a wonderful opportunity to give back to a number of worthy charities. "Oh, What Fun!" is the theme of the 18th Annual Market, which will pay tribute to the many organizations that have benefited from the Market proceeds through the years. The Fort Bend Junior Service League (FBJSL) and Memorial Hermann Sugar Land invite the community to join them for what is sure to be another stellar event. The Market will take place at the Stafford Centre Performing Arts Theatre and Convention Center Friday, November 2nd and Saturday, November 3rd. Preview Night has been set for the evening of Thursday, November 1st.
The 2017 Sugar Plum Market raised over $280,000 which benefited 24 charitable organizations in Fort Bend County. The continued success of the Market would not be possible without the support of sponsors and donors. In addition to the 2018 Sugar Plum Market's Title Sponsor, Memorial Hermann Sugar Land, top sponsors to date include the Stafford Centre for the Performing Arts, Lifestyles Magazines, absolutely! focus media, Sterling McCall Nissan, Briscoe Manor- "The Barn", Behind the Bash Catering, The Tallest Tulip, Randalls, H-E-B, Johnson Development Corporation, Harris Machine Tools, Vintage Farming Co., and Pamela Printing. "Sugar Plum Market volunteers sincerely appreciate our sponsor's willingness to support our efforts to make our community a healthier, happier place to live." said Sugar Plum Market Co-Chair Jaime Harris. "Additionally, I am thrilled to announce Sugar Plum Market's first exclusive Sponsor VIP Kick-Off party hosted at the prestigious Briscoe Manor-"The Barn" with food and beverage sponsored by Behind the Bash Catering was a success! This was an exciting opportunity for Sugar Plum Market volunteers to express our appreciation to our loyal sponsors in addition to providing an exclusive networking
opportunity and party. We are grateful for the continued support shown by our amazing sponsors."
Sugar Plum Market has custom packages that offer unique marketing opportunities, ranging from $300 to $10,000, to increase the Sponsors return on investment. We would like to invite other businesses and individuals to view the new 2018 Sponsor packages that build a mutually beneficial relationship to help make our community a better place. For information on sponsorship and underwriting opportunities, please visit www.sugarplummarket.com/sponsors or email sponsors@sugarplummarket.com.
Sugar Plum Market tickets may be purchased beginning September 1st at www.sugarplummarket.com or at local Randalls stores. Preview Night tickets (limited quantity available) are $75 and General Admission tickets are $12 in advance or $15 at the door.
Photo:
Front Row Left to Right: Heather Brown (Sugar Plum Market Co-Chair), Heather Allen (Sugar Plum Market Co-Chair)
Back Row Left to Right: Patti Parish-Kaminski (Absolutely! Focus Media), Haley Peck (Johnson Development Corporation), Malisha Patel (Memorial Hermann Sugar Land), Mike Shaw (Sterling McCall Nissan), Kim Zeiner (Houston Lifestyles), Jamie Hill (Pamela Printing), Stephanie Mahler (Briscoe Manor).